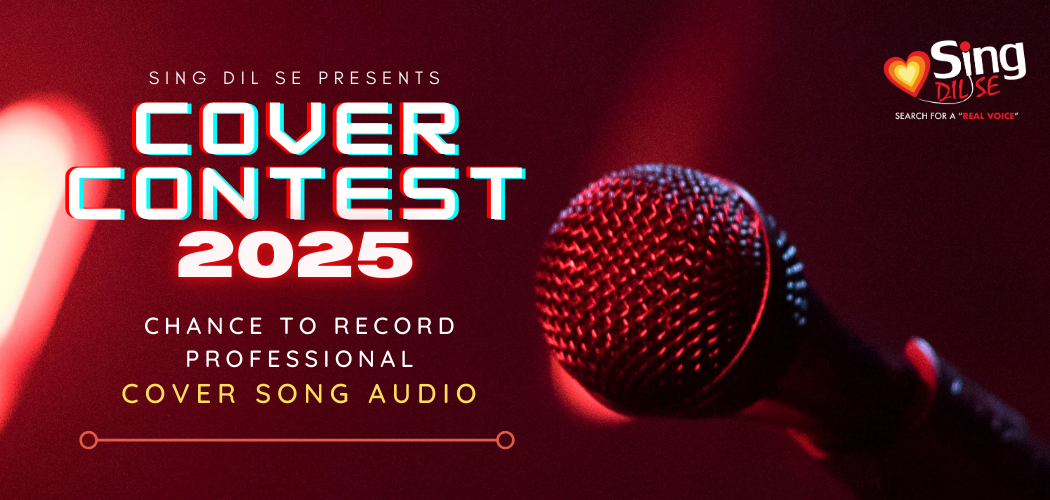 SING DIL SE presents - COVER CONTEST 2022

Sing Dil Se is India's First Digital Platform for the aspiring singers that have successfully conducted 8 Seasons till now and still working to provide opportunities for deserving singers across the nation. In the world of social media Sing Dil Se has been on a ladder always by achieving the Golden Button of YouTube and now has the family of 2 Million+ subscribers with more than 250 Million+ Views and has produced impressive artists, who have not only wowed us but the entire world.
An exclusive chance to be featured on Sing Dil Se Official YouTube Channel, a chance to sing original song and a chance to be signed officially with Nextera Production.
So now this time is for the different platform, different stage and different criteria to judge. It's time to show the world all your skills. It is time to be in front. No entry fee! No language boundation!!
Get your vocals ready it's going to be tough this time.
The Three Rounds of the competition:
► First Round: Online Auditions Round The First Round is the Online Auditions Round. Record any song without music of 1-2 min from your mobile phone and upload it to our online portal for cover contest auditions.
► Second Round: Cover RoundThe second Round is the cover round. SDS STUDIOS will make your cover song audio. You can select any song from the list provided by us, send us the dummy of your selected song so that our music producer will make a track according to your comfortable scale after that you can start practicing and for one day you've to come to our studio where audio will be recorded. The final content will be delivered to you within 15-20 days after recording. The production charges will INR 10000/- (TOTAL) in which you will get professional mix and mastered audio of the song your have recorded in studio for cover contest.
►Third Round: Final Round ON THE BASIS OF ALL PERFORMANCES OUR TEAM WILL SELECT TOP 5 CONTESTANTS FROM ALL OVER INDIA AND THEY WILL BE FEATURED ON OUR OFFICIAL YOUTUBE CHANNEL. 100% SPONSORED

WE WILL ALSO ANNOUNCE A WINNER OUT OF TOP 5 AND HE/SHE WILL GET ONE YEAR CHANNEL MANAGEMENT CONTRACT WITH MINIMUM 24 COVER VIDEOS GUARANTEED.
Rules and Regulation of the Contest:
The audio track will be an unplugged track.
The artist will get 30 to 45 minutes for audio recording.
The final audio will be delivered to you within 15-20 days.
Assigned date slots cannot be changed.